Mistress of Sunshine Dizon's Husband Lives in the Same Building
By DiversityHuman on Sunday, June 19 2016, 17:36 - Celebrity - Permalink
The lover of Sunshine Dizon's husband is reportedly living in the same building, according to news reports. The furious actress found out the secret of her husband after she discovered a greeting card that contains sweet messages from the said woman.
On Father's day, actress Sunshine Dizon broke the news that her marriage to his handsome husband, Timothy Tan, is already over. This confirmation could be directly connected to her post on social media where she revealed the identity of a woman believed to be the mistress of Timothy.
A certain Clarissa Soriano Sison allegedly gave a card to Tan with a message:
"When I tell you I love you, I don't say it out of habit. I say it to remind you that you're one of the best things that ever happened."
Sunshine posted the screenshot of the greeting card in her Instagram account. She also uploaded a photo of the alleged mistress of her husband with a caption:
Oh and by the way, how was it like to live so near me? Exactly 3 floors up in the same building were my children and i live. And did you also enjoyed your U.S trip recently? So excited to hear all about it, im pretty sure your husband will be so happy also. I do hope its all worth it. ?? #clarissasorianosison #stlukeshospitalqc @clang_sison #claris @tantim99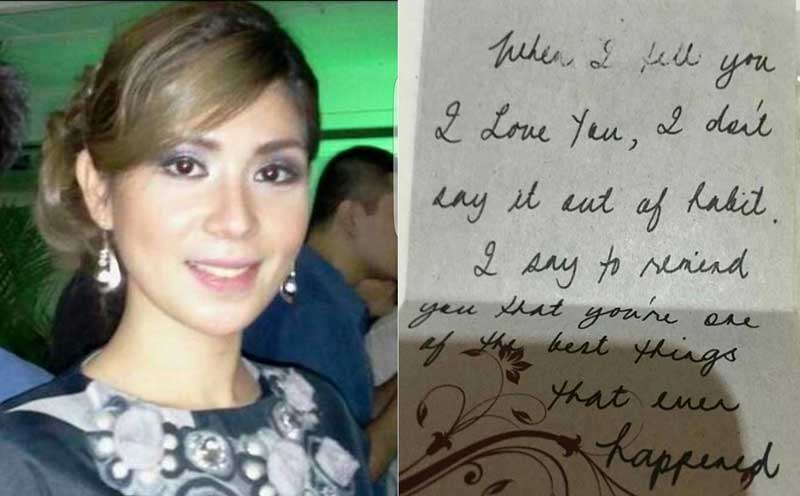 The couple who, were married in 2010 were blessed with two kids, reportedly encountered unstability of their relationship early this year. According to Timothy, they both tried to settle numerous challenges in their marriage but they could not come up with sound solutions other than the annulment of their marriage.
READ: Husband of Sunshine Dizon killed a 60-year-old woman in Pampanga
In an interview, Timothy issued an apology to their relatives who maintain high hopes that he and Sunshine could fix their problem.
I would also like to take this opportunity to sincerely apologize to the people & their families who were involved, directly or indirectly, as a result of our marital problems.I would also like to request for privacy as we both go through this challenging time in our lives.
The separation of Sunshine Dizon from her husband is just one of the many marriage annulment instances in the country. For now, this could be too painful to the actress but later on she might find another partner as observed to other celebrity couples who settled again after a few months.
Update: Clarissa Sison issued an official statement on Facebook denying the allegations of Sunshine Dizon. The short message reads:
THIS IS MY OFFICIAL STATEMENT:

Do not believe everything that you see on the Internet. Ano nga bang laban ko di ba? Artista yung humihingi ng sympatcha sainyo but please, do not judge me agad if you don't know what really happened. Good night everyone! Thank you for your messages, keep them coming. I don't care because I know I did not do anything wrong.