Open Letter to Devina Deviva regarding racist comments on Facebook
Open Letter to Devina Deviva regarding racist comments on Facebook
An open letter from a 42-year-old British man, Malcolm Conlan, made the rounds online following the racist Facebook post of Devina Deviva about Miss World 2013, Megan Young.
Here's the full script of the open letter.
Dear Ma'am (Divina Diviva)

Please look around you and wake up. Who do you see working in hospitals in your country as nurses, health care assistants, pilots, drivers, working in banks, customer service, restaurants, shops etc? Filipino's.

Exactly the same kind of jobs that everyone is employed in, oh and yes even in houses as house helpers and nannies. Yes Filipino's. The Philippines has always been a big exporter of labour overseas and what's wrong with that?

Filipinos work in all kinds of industries, I can say one thing, they all want to work hard to support their families and do not enjoy claiming benefits or help from the Government. They do the noble thing and work very for a living, contributing to taxes and the Economy. I hate the word 'maid' it's old fashioned and not necessary, but actually 'maid' as you call it, yes many filipino's do work as domestic helpers in the Middle East as well as across the world, they do so to help their families and their country.

They should all be very proud. I am married to a Filipina and we have two wonderful children who are also Filipino. I am honoured and consider myself very privileged indeed to be part of a British/Filipino family

Finally don't know what your issue is with the winner of Miss World is?

Megan Young is Filipino, she is also very proud, as I am sure many millions of Filipino's are across the entire world, so before you really do upset many millions, please think very carefully and apologise. Thanks so much
Source: Malcolm Conlan's Facebook account
Do you want to know how Malcolm got closer to Filipinos? Read his story and journey to the Philippines, here.
By:System Admin
02 Oct 2013
Human Rights
1 Comments
Note: The views of individual bloggers do not necessarily reflect the views of DiversityHuman.com. The owner and administrator of this site has given the bloggers the privilege to practice their freedom of speech and of expression.
Check more interesting blog posts below!
Like us on Facebook: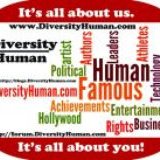 If you want to know some other personal details, please visit my full profile. It would also include the list of my other blog posts. Thank you!
Subscribe to DiversityHuman.com
Leave Your Comment